Welcome to the Let's Explore series. In this feature, we look deeply into a notable place and see how its layout and design influences the experience of being there.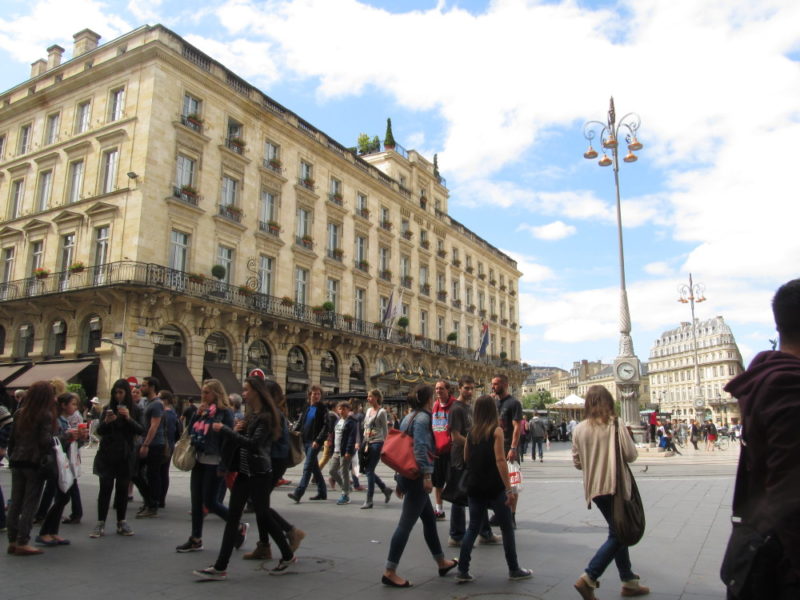 Bordeaux, located in the southwest of France, is a city of 240,000 and is featured on the UNESCO World Heritage list. Strolling its magnificent 18th-century environs, you visit majestic gothic and baroque churches, intimate squares, narrow alleys full of gastronomic scents, and broad boulevards bustling with people. The entire center is pedestrianized, gorgeous proof of why no city can call itself world class unless its center features extensive pedestrian areas. Bordeaux is undoubtedly world class.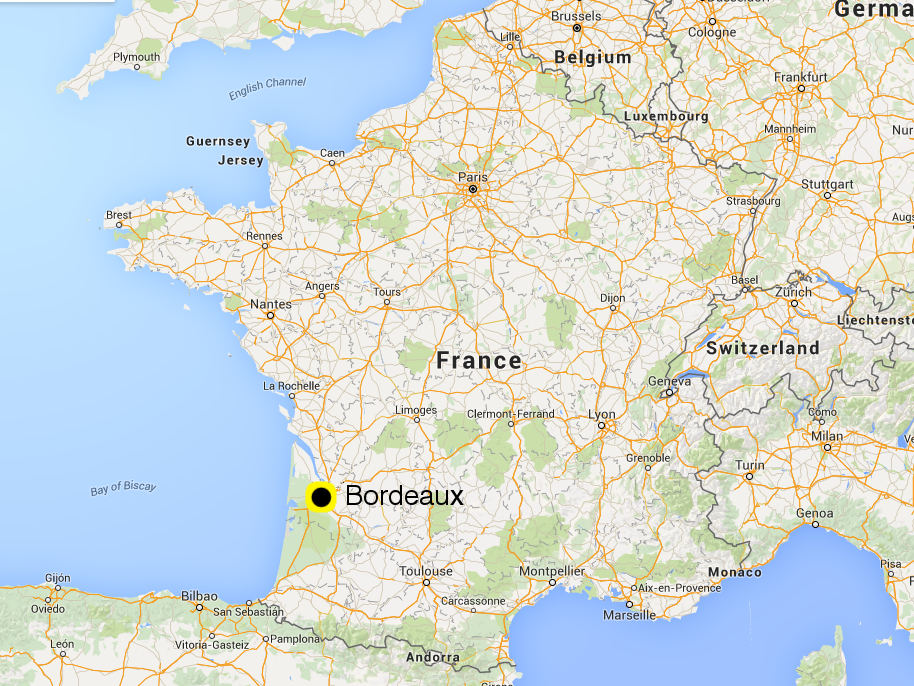 In this Let's Explore installment we'll walk the same route that my wife Amy and I took when visiting Bordeaux recently. You'll see as we did, the spectrum of environments the city offers in a compact area, providing constant surprises and stimulation as you walk.
Our route
Map key

Le Miroir d'eau

Place de la Bourse

Place du Parlement

A network of narrow alleys

Rue Sainte-Catherine

Place de la Victoire
Let's begin…
---
1. Le Miroir d'eau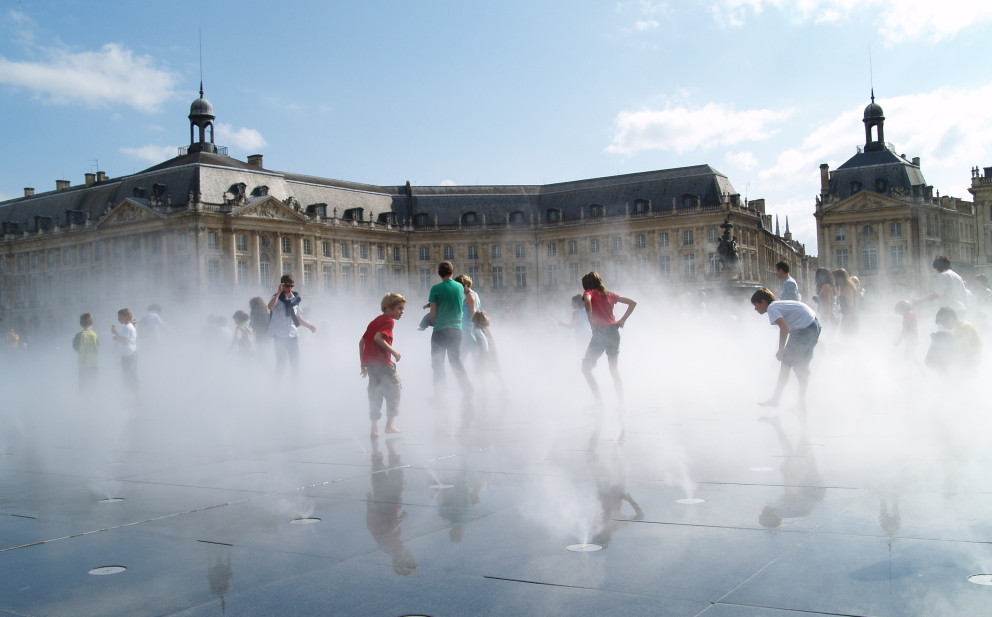 We start along the banks of the Garonne river. Bordeaux begins with a big invitation: The Miroir d'eau (water mirror), a place for play and fun. Children and adults dash between the water jets and through the misty air. The Miroir provides not only entertainment for participants but also creates a spectacle for onlookers to enjoy. Children are the most effective group at enlivening public spaces and so the Miroir is a well-designed and located feature.
2. Place de la Bourse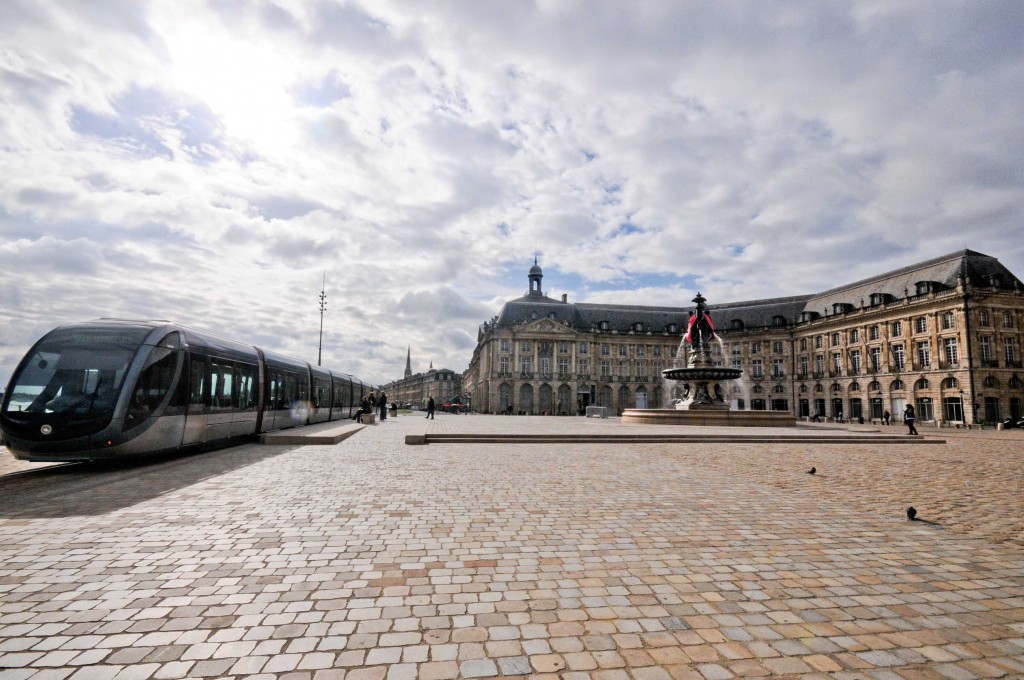 In the first photo of the Miroir d'eau above, you may have noticed the buildings in the background, wrapping themselves around the large Place de la Bourse. The symmetrical curves of the buildings recall outstretched arms, drawing you into the center. In the photo above, you'll see the city's light rail running along the river, providing instant and easy access to the Place de la Bourse and its adjoining areas. Comfortable and efficient public transportation is essential for inviting people to visit city centers such as Bordeaux's.
However, we saw few people hanging around this area. The Place is huge, making it difficult to draw enough people to create a sufficient density and sense of liveliness. Furthermore, the space isn't surrounded with enough destinations, such as a variety of shops, to draw and keep people in the area. In the 19th century, numerous American cities made the mistake of copying these kinds of overly-large spaces for their civic centers (San Francisco's Civic Center resembles this space and continues to be a blight on the city); very few were successes.
3. Place du Parlement
Walking through the Place de la Bourse, we enter Bordeaux's main pedestrian area. A street or so in, we reach the Place du Parlement, a modestly-sized square. Notice how the square's small size compared to the Place de la Bourse makes it easier to create density and liveliness. Just a couple of rows of tables along the building edges are enough to almost reach the middle of the square. The center itself features an attractive fountain, providing a pleasant centerpiece and some additional seating.
The Place du Parlement is just one of numerous smaller squares in the area, connected by…
4. A Network of narrow alleys
Proceeding from the square, you enter a network of narrow alleys. Entering this area was one of the most joyful moments of our visit to Bordeaux. The environment is rich with detail and activity – ornamented doors, windows, balconies, brick paving, cafe tables, and people dining or strolling through. The air is full of the murmur of voices, a profound contrast with cities that lack pedestrian areas and which are dominated by the sound of automobile engines. The alleys are lined with cafes and restaurants, keeping the area full of people and increasing a sense of safety and warmth.
These narrow alleys are usually 12-20 feet wide, a dimension commonly found in the pedestrian streets of traditional towns and cities all over the world. What is it about this width of street that is so suitable for humans? It's because this width allows us to perceive detail on both sides of the street as we walk, providing the richest visual experience while still allowing for enough room for a stream of pedestrians to flow both ways.
5. Rue Sainte-Catherine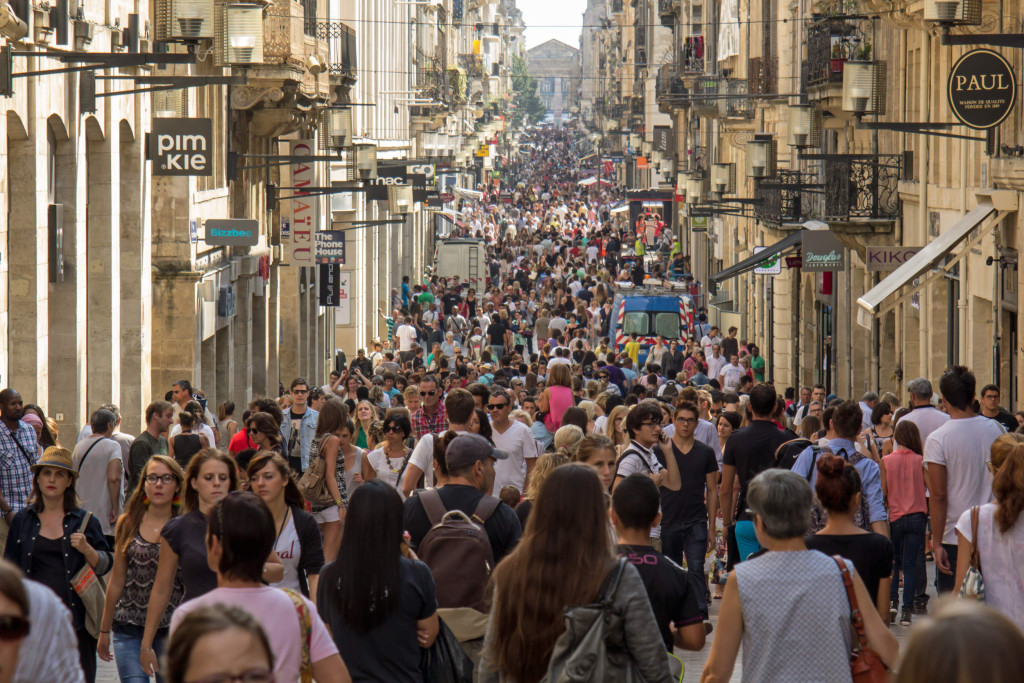 We emerge from a narrow alley onto Rue Sainte-Catherine, said to be the longest pedestrian street in Europe, and Bordeaux's main shopping street. At all hours throngs of people fill the street, so many that at times it feels like you have joined a protest march! The street is lined with shops of all varieties, attracting the maximum possible variety of shoppers. But most shops are narrow in width, keeping the experience changing every couple of seconds. Simply being part of such a river of humanity is invigorating.
Notice how it feels to go from modest square to narrow alley to wide pedestrian street. The many shapes and sizes of the spaces through which we pass creates variety and stimulates interest and the desire to explore. This variety is one of Bordeaux city center's great qualities.
Rue Sainte-Catherine is all the more remarkable because this is how it once looked: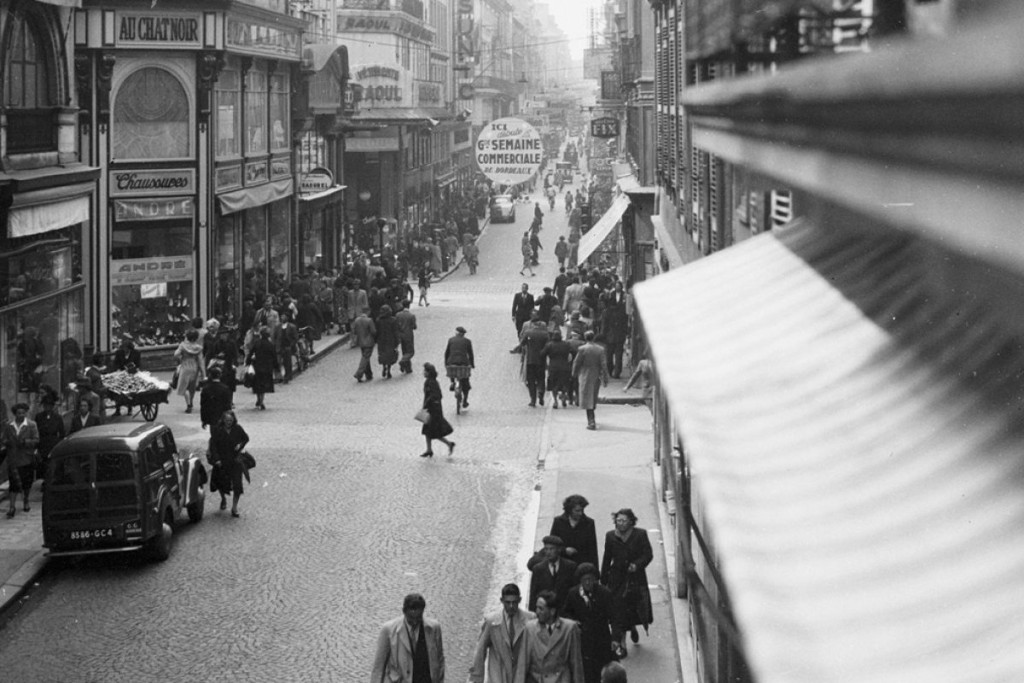 Until 1976, the street was a traffic thoroughfare, with people squeezed onto the sidewalk. That year, the street was pedestrianized for part of its length (with full pedestrianization in 1984). Merchants howled in protest, claiming the move would cripple their businesses. Of course, today business is thriving along the street. And deliveries and other essential functions served by automobiles still happen, as the present day photo of this street shows.
6. Place de la Victoire
The end of Rue Sainte-Catherine is capped by the Place de la Victoire, an open-feeling square dominated by the Porte d'Aquitaine above. Great cities break up journeys into segments and end/begin each segment with some kind of notable destination. The Porte d'Aquitaine is this marker for the end of Rue Sainte-Catherine. You can just about see the Porte in the modern day photo of Rue Sainte-Catherine in section 5 above. By acting as a visual end to the street, the Porte provides a visual destination to head toward and prevents the street stretching on beyond sight.
---
Summary
And that ends our walk through the center of Bordeaux. We've seen how this area creates a superbly pleasurable human-oriented environment by:
Inviting people to stick around and enjoy interactive attractions such as the Miroir d'eau
Creating interest by constant varying the dimensions of spaces from large squares to narrow alleys
Providing many opportunities for people to sit and eat or drink and keep the streets lively
Breaking the environment up by providing visual markers such as the Porte d'Aquitaine
And most of all by prioritizing pedestrians in the city center
That wraps it up for this installment of Let's Explore. Thanks for joining us!