IN A WORLD WHERE COMMUNITY IS OFTEN ABSENT, BLOCK PARTIES CAN TURN THE TIDE



Given block parties' profound community-building power, you'd expect cities to be falling over themselves to spread them like wildfire. Alas, it ain't so. In most cities, applying for a block party is bedeviled with There Be Dragons bureaucratic language, lengthy forms, and burdensome regulations. In many places you'd think organizing a block party deserved a trip to the confession booth.
Recently, to understand how cities can better support block parties, I undertook a nationwide study of block party regulations, looking at what it's like to organize a block party in 62 cities across the US. The resulting report "Building Blocks" not only shows what's wrong but, more importantly, makes it crystal clear how cities can become thriving block party hotbeds. Crusading citizens, local leaders, and city staff… this report is for you.
Drawing on the report, here are five essential ingredients a city needs to start a block party revolution.
1. A CITY MUST WANT PEOPLE TO ORGANIZE BLOCK PARTIES
Most cities give every impression they'd rather their citizens not organize block parties. Read how joylessly some places "promote" block parties:
"THE TRAFFIC ENGINEERING DIVISION, IN CLOSE COOPERATION WITH THE JACKSONVILLE SHERIFF'S OFFICE, AUTHORIZES THE USE OF ROADS FOR BLOCK PARTIES AND SPECIAL EVENTS." – Jacksonville, FL
"PERMIT, IF ISSUED, AUTHORIZES APPLICANT TO BARRICADE A SPECIFIC PORTION OF THE RESIDENTIAL, USING CITY APPROVED BARRICADES, DENYING ACCESS TO THROUGH-TRAFFIC FOR A PURPOSE OF ALLOWING THE RESIDENTS WHO RESIDE WITHIN THE BARRICADED AREA TO CONDUCT A NEIGHBORHOOD BLOCK PARTY." – Kansas City, MO
"BLOCK PARTIES ARE RESTRICTED TO RESIDENTIAL STREETS. THEY ARE NOT PERMITTED ON ARTERIAL OR COLLECTOR STREETS." – Mesa, AK
These are the first words you read at the top of the block party form. Not exactly jumping for joy, are they?
Here's what cities should be saying:
"THANK YOU FOR YOUR INTEREST IN ORGANIZING A BLOCK PARTY! THIS IS A GREAT WAY TO MEET YOUR NEIGHBORS AND ENJOY A SPECIAL DAY TOGETHER. IT'S EASY TO APPLY; PLEASE CONTACT US IF YOU NEED ANY HELP."
So, cities, step one, ask yourself: "What's the goal of our block party program? Do we want people to organize block parties or not?" That naturally leads to the next important question dealt with in the sections below: "How much do our rules and regulations encourage people to apply?"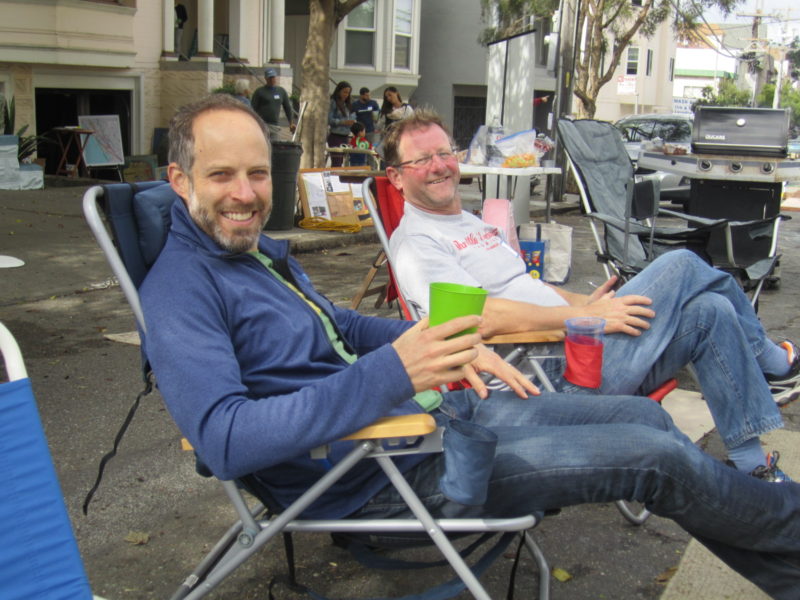 2. MAKE BLOCK PARTIES $FREE
Charging people for block parties is a cash cow for many cities. Here are the biggest offenders:
Los Angeles, CA: $312
Miami, FL: $240
San Jose, CA: $175
Corpus Christi, TX: $170
San Francisco, CA: $167
Bear in mind that the national median fee is $20 and the most common fee (26 cities out of 62) is… $0.
All cities could charge $0 if they wanted to. The first step is minimizing city costs by creating a simple application process. Remaining expenses can by covered by general funds or by subsidizing costs with fee income from larger events.
Nothing says "Organize!" like making block parties free. Corpus Christi recently jacked up its block party fee and applications went down. When Seattle got rid of its fee, applications shot up.
3. REMOVE THOSE BARRICADES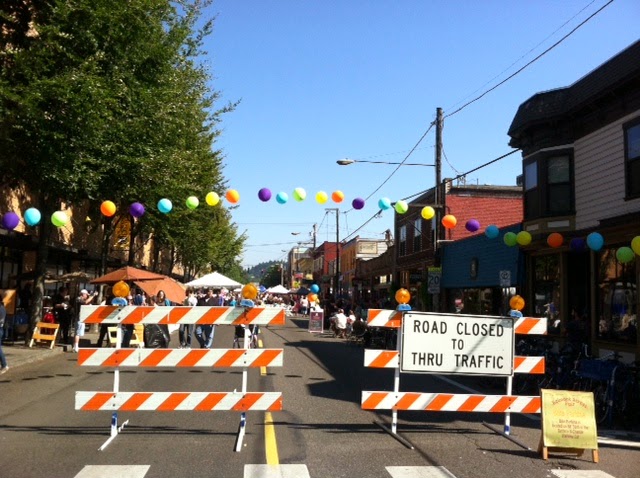 Most cities force block party organizers to cough up hundreds of dollars to fortify their events with heavy duty barricades to resist automobile attacks. Just in case, you know. This is a heavy-handed and unnecessary measure and it's often the most single biggest block party cost.
A lighter touch will encourage more block parties. Some cities, like Seattle, allow residents to use trash bins and furniture as barricades (unless the event abuts an arterial street). "We have had very few problems reported with this approach", says Seth Geiser from Seattle Department of Transportation.
4. SHOW PEOPLE HOW TO ORGANIZE A BLOCK PARTY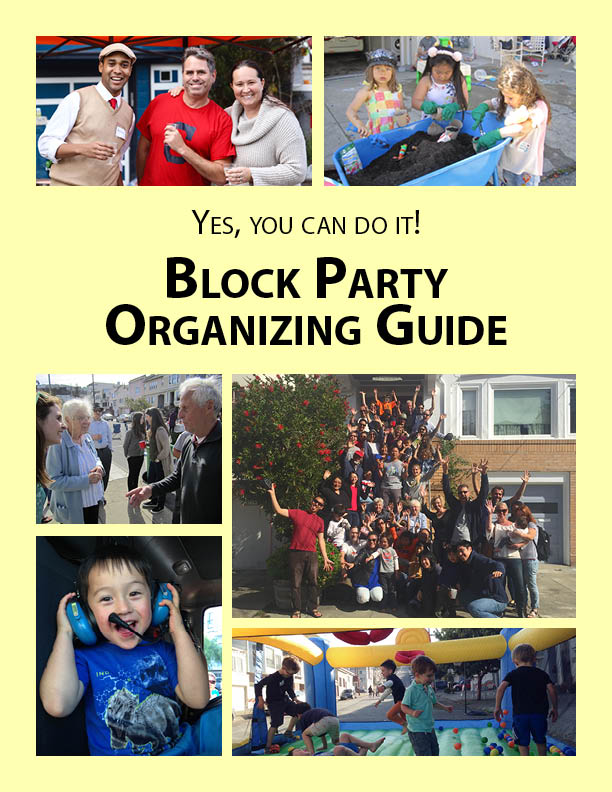 It might be difficult or easy to apply for a block party but how do you actually organize one? Practically all cities are silent on this. Throwing a block party can be intimidating for newbies and a guiding hand can make all the difference.
Cities should be that guiding hand and offer a friendly, readable Block Party Organizing Guide (see my mock up version opposite). This guide should explain how to reach out to neighbors, convene meetings, brainstorm ideas, handle disagreements, allocate responsibilities, and so on. And cities should also offer a Block Party Hotline to answer questions and in-person Q&A's to community groups.
5. MAKE IT EASY TO APPLY
"People have told me that a lot of folks look at the block party permit checklists and don't even bother continuing," says Seth Geiser, again from Seattle Department of Transportation.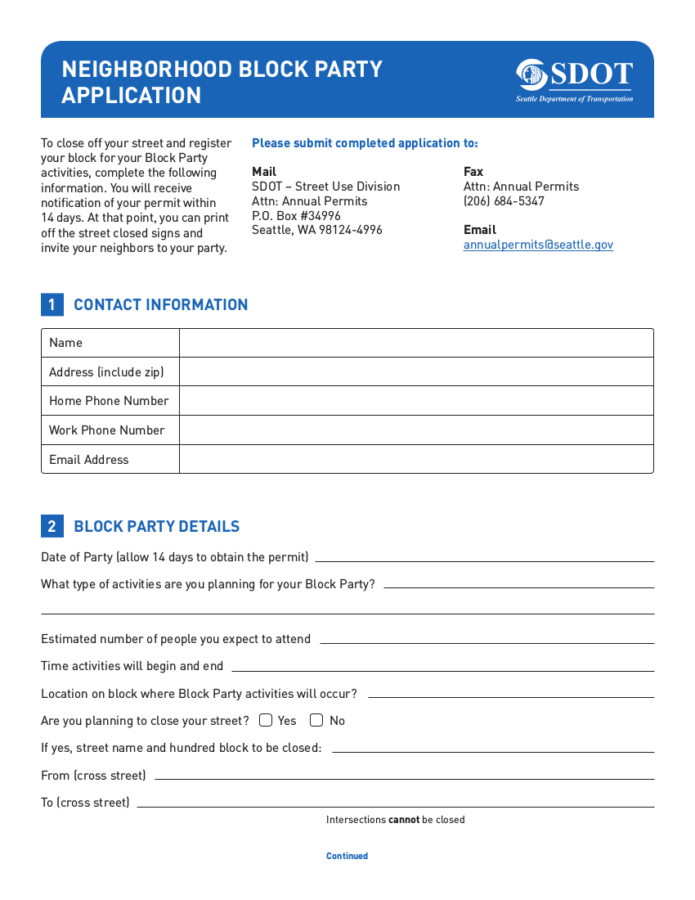 And it's no surprise. It's easier to complete a 2,000 piece jigsaw puzzle depicting baked beans than it is to apply for a block party in many cities. There's Riverside's 27-page mega-form, Boston's baffling online application will have you running e-circles for hours, Memphis's form doesn't even mention the words "block party". The dazzling new dawn of user-friendly design clearly hasn't reached many American cities.
Block party forms should be pleasing to the eye, no longer than a page, written in plain and friendly English, request a small quantity of information (basically, when the event is happening and who is applying), and be easy to find.
Once again, Seattle (form on the left) wins the competition with a short, clear form. And, wouldn't you know, things have worked out.
6. SCRAP THE OUTREACH REQUIREMENTS



Okay, I said we'd only mention 5 ingredients in a block party revolution but I couldn't resist adding this one because… signature-gathering is a royal pain in the ass. Most cities require organizers to collect a certain amount of signatures from neighbors in support of a block party; some cities require 100% of block residents. That's insane.
Collecting signatures is laborious and unnecessary. Cities that don't require it do fine. Recently, Portland switched from mandating signatures to merely requiring a flyer on every household's doorstep. Really, cities could do without even that requirement but it's not the worst compromise for cities feeling anxious about the outreach process.
TRUST THEM AND THEY WILL ORGANIZE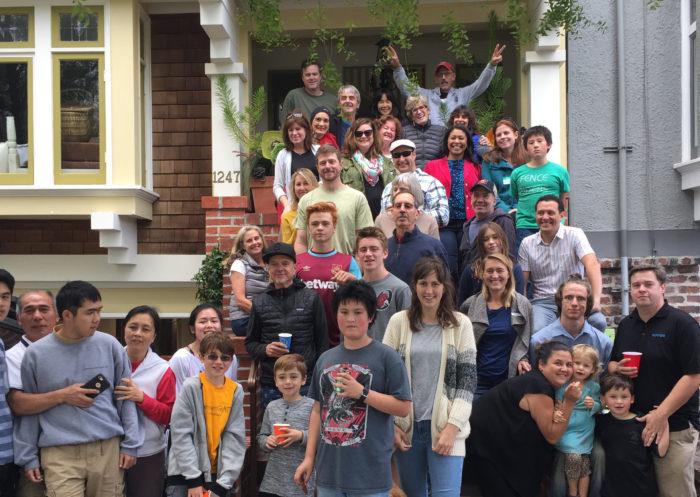 Neighbors who organize block parties are among the most trustworthy people on the planet, highly motivated to make a difference. Most cities dump rules and regulations upon these modern day heroes to prevent anything bad happening even though block parties are remarkably trouble-free. Homes don't burst into flames, cars don't plough through crowds, gridlock doesn't choke nearby streets, and city phone lines don't jam up with complaints. Cities that trust their residents need only a few basic rules.
If cities encourage block parties, thousands or millions of neighbors will meet for the first time. They'll start protecting each other from crime, babysit each others' children, and run vulnerable neighbors to the hospital. In short, they'll begin rebuilding the social fabric that once held society together. And they'll have a whole lot of fun doing it.
Read the Building Blocks report and find out more about how you can start a block party revolution.
Download the report