There's a memory from my earliest years. It's a simple water wheel, slowly turning, surrounded by lush green ferns. For me, the memory evokes deep sensations: Gentleness, kindness, slowness, and a timeless, modest beauty. The scene looks something like this…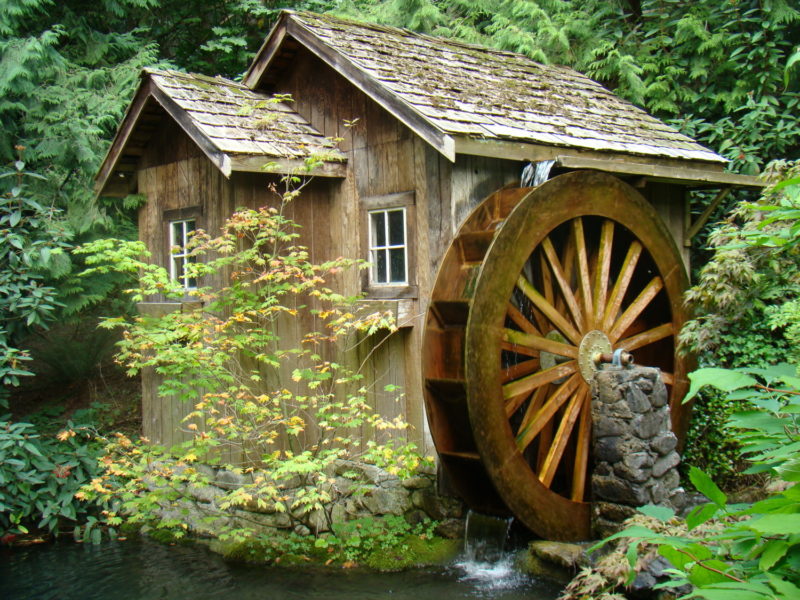 From a young age, the hazy memory of that water wheel gave me a vague sense of the connection between beautiful places and happiness. But it would be a long time before I gave this subject much thought. I was to one day realize that beauty brings us even more than happiness alone.
Years later, I visited Italy for a month. A beautiful old wooden door, a grand piazza surrounded by renaissance buildings, yellow flowers hanging outside a window… In town after town the depth of Italy's beauty stunned me – it was everywhere, from the spectacular to the modest.
Again and again, I felt like that child who had felt on an emotional level the old water wheel. Italy had re-awoken within me the connection between beautiful places and feelings.
I could share with you a thousand joyful moments in Italy. Here are just five…
1. A warm embrace – Vernazza, Cinque Terra
Amy (pictured below) and I were exploring the nooks and crannies of the town of Vernazza in Italy's Cinque Terra region when we came upon this place…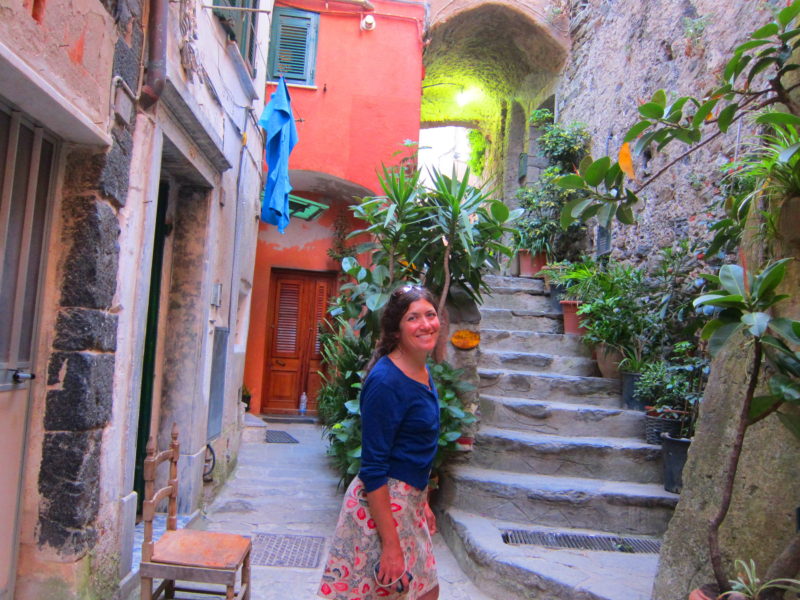 I stopped, mesmerized by the space. This would be a moment to remember for a long time.
Here was a truly intimate place, which seemed to embrace us, not in a claustrophobic way but in a nurturing, protective sense. This space seemed perfectly, uniquely, and lovingly adapted to its location. The stairs leading up to the covered passageway, the precise locations of windows and doors, the plants growing out of pots and cracks in the walls… There is no space exactly like this anywhere else in the world.
Look at the scene from a design perspective. You'll see that this space is excellently defined and adapted to the human scale. The modest spatial dimensions are perfectly suited to our senses, especially the visual. Hence, almost the entire space can be perceived in detail from any spot. Stone, along with some wood, dominates the scene; natural ingredients that touch our primal cores.
2. An Italian child's voice – Laigueglia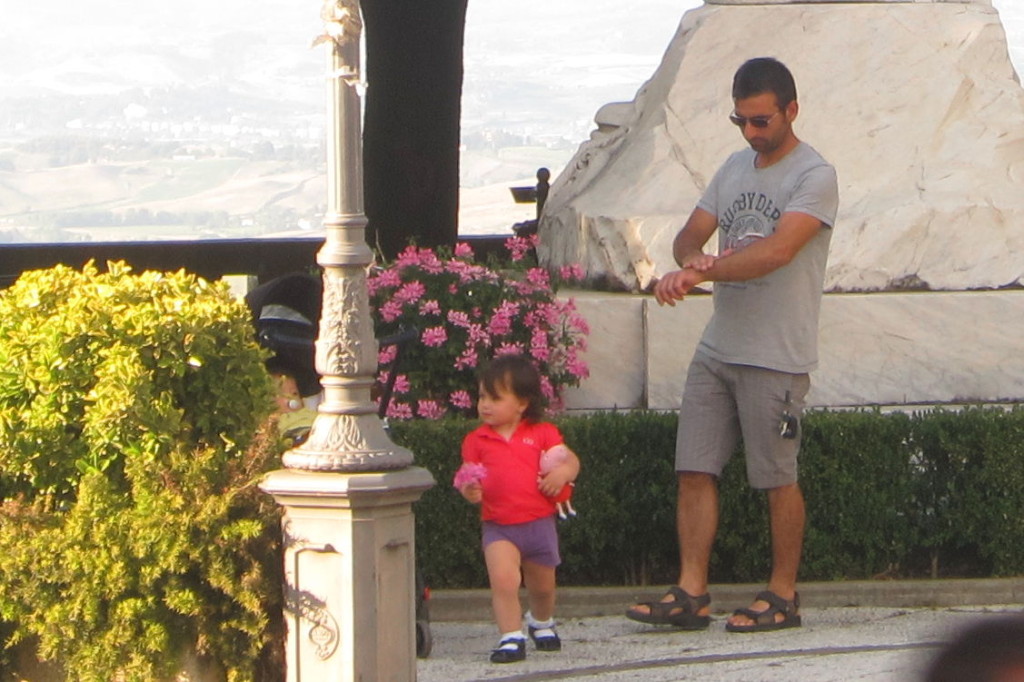 Walking the pedestrianized streets of Laigueglia, with gelatos in hand, a wonderful sound reached our ears: An Italian child's voice. The Italian language is known for its melodic sound. Spoken by this child, Italian sounded almost like a song.
What does this have to do with the built environment? This street in Laigueglia is designed for people, there is no automobile traffic here. Without the cars, the dominant sound is the human voice.
Most of us live in places overwhelmed by the sound of automobiles. And so encountering a place like Laigueglia can be a moment of great relief. We realize how long we've been tormented by engine noise and how soothing is the gentle sound of human voices.
3. A dramatic arrival – The Piazza del Campo, Siena
Siena's world famous Piazza del Campo is one of the world's finest squares. And it also unfolds magnificently. The experience goes something like this…
You walk down the street…
You descend a staircase. A slice of the Piazza is visible…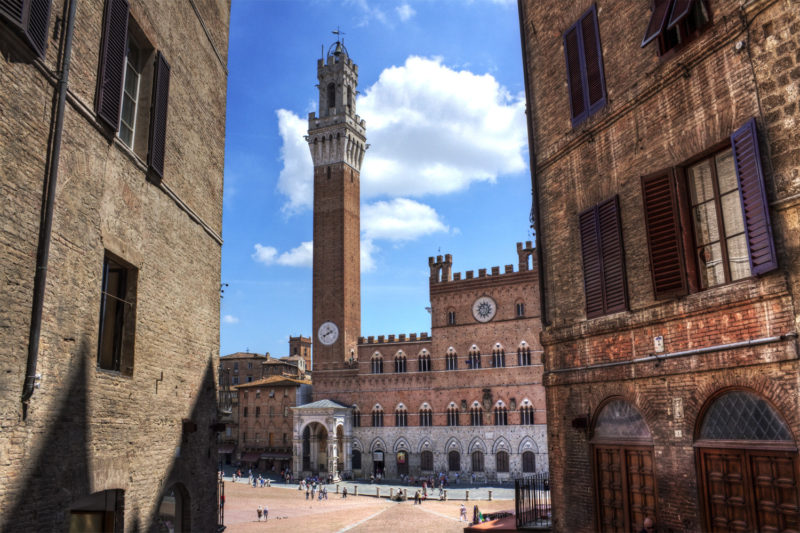 Then suddenly, the entire square bursts into view…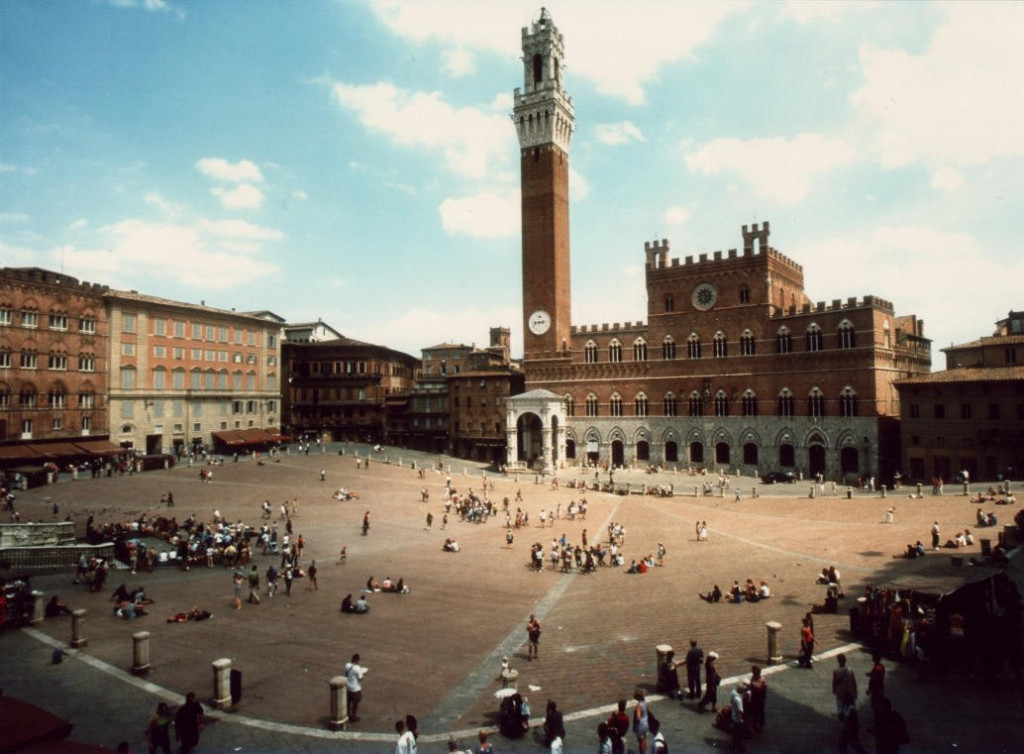 Encountering this upon my own first visit to the Piazza del Campo was an emotional moment. The world truly seemed to converge at this very spot. It was like destiny had brought us here.
Every community needs squares, such as the Piazza del Campo. How a square is reached and where it's located communicate strong messages about its importance. A well-located square will be embraced by local people and will give a community a sense of its own purpose.
4. A Portal to another place – San Gimignano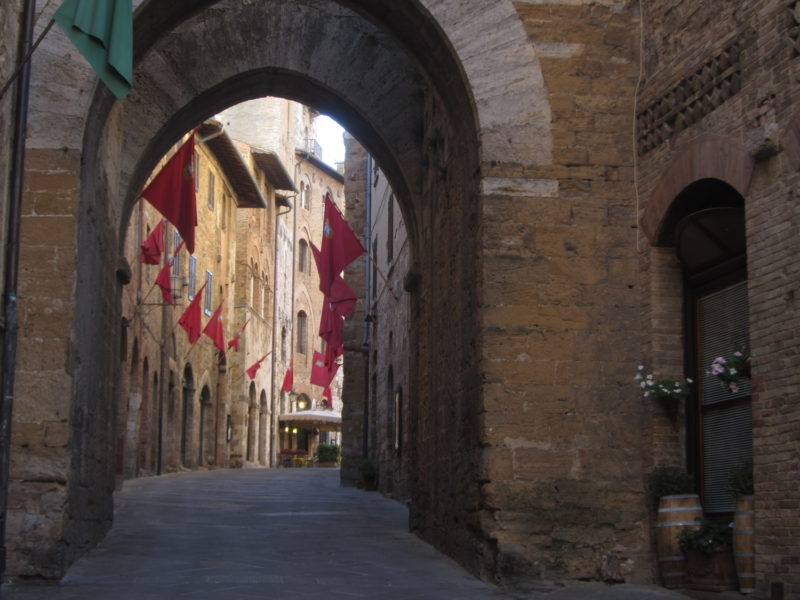 As we approached this entrance to the world-famous town of San Gimignano, anticipation and excitement came over us.
The above portal intensified our excitement. A portal defines an area and creates the experience of passing from one space to another. This breaks up space into smaller segments, giving each space more of an identity. The above portal achieves this so effectively because of its modest width and curved upper section, both of which intensify the space in the center.
5. The hanging plants of Pienza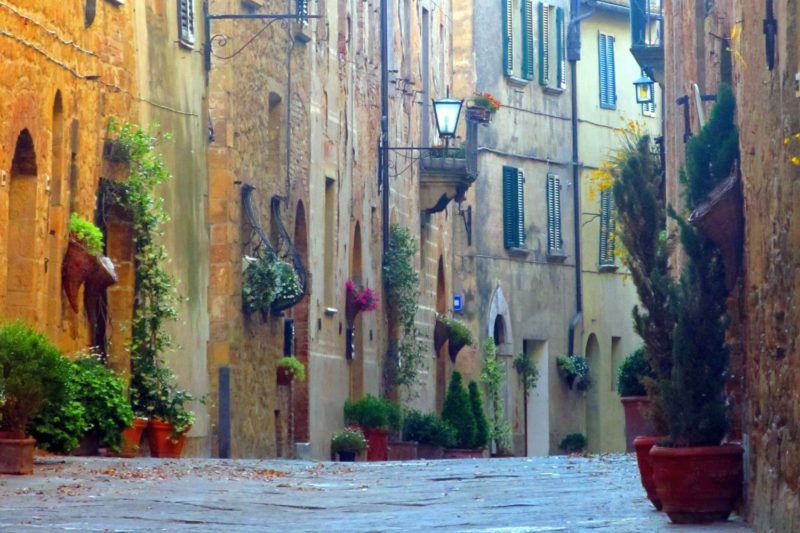 The medieval town of Pienza won our hearts immediately. We entered into the old pedestrian center and noticed a feature peculiar to this town: Baskets of plants lining the buildings along the streets.
Why were these plants so impactful? Of course, the plants are pretty. They also show the charming effects of the human hand, local residents adding their own creativity to the local environment. It's ultimately residents, not contractors or governments, who can make a place truly beautiful.
And, crucially, the street is narrow. Someone walking down the middle of the street can see the plants on both sides. The plants can more easily make an impact.
Pay attention to your feelings…
When visiting places, pay attention to your feelings. How does it feel to reach your own street, downtown, or waterfront? Perhaps you feel something, perhaps nothing. Ask yourself why. For years, I was oblivious to how I felt in different places. I took both ugliness and beauty for granted. Italy helped make me more sensitive to my surroundings.
Beautiful places make you feel. You may feel joy and excitement, you may feel like a child again. Beauty enhances our character, brings us peace and happiness, and binds us together. We all deserve to live in beautiful places.