What's Hot In Public Space highlights recent efforts around the world to reclaim public space for people. In this installment, we examine calls to pedestrianize London's iconic Oxford Street, bold plans from the mayor of Paris, and a eye-opening proposal from New York City to turn Broadway into a green space.
---
Calls to pedestrianize London's Oxford Street gain momentum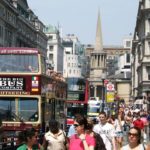 Oxford Street in London is Europe's most popular shopping street and it's jammed packed all the time – not in a good way. Pedestrians are crammed on the sidewalks and gridlocked traffic inches along. In fact, 4 days into 2015, the street had already breached the European Union limit for Nitrogen Dioxide emissions for the entire year. That's in addition to Oxford Street's high annual number of traffic-related injuries.
It's no coincidence that 2015 saw increasing calls to pedestrianize Oxford Street. Organization Living Streets is campaigning for the change and outgoing London mayor Boris Johnson has confirmed that a study has been launched to explore the idea. Meanwhile, all 4 mayoral candidates support the idea.
If it happens, pedestrianizing Oxford Street will turn heads worldwide. Watch this space.
Links:
---
mayor announces plans to reclaim Paris's streets for people
Anne Hidalgo, mayor of Paris, has come out with bold plans to calm Paris's streets. The plans include pedestrianizing a stretch of the Right Bank of the River Seine and instituting one car-free day a month on the Champs-Élysées.
From the below-linked article: "We are leading a more global fight against the monopoly held by cars in our city and in our lives", Mayor Hidalgo said. "We want to create a peaceful city, free from the hegemony of private cars, to give public transit, bicycles, and pedestrians their rightful places. Reducing car traffic will help make Paris more pleasant and more full of life."
Link: Mayor of Paris remains committed to the struggle to reclaim her city from the car
---
6 major European cities with big pedestrianization plans
This one is from back in October 2015 but it definitely warrants inclusion. Six major European cities – Oslo, Norway; Milan, Italy; Dublin, Ireland; Paris, France (discussed above); Madrid, Spain; and Brussels, Belgium – have announced plans to reclaim portions of their centers for people.
This strategy for enhancing livability, while still radical today despite decades of successes, is certainly starting to catch on around the world.
Link: 6 Big European Cities With Plans to Go Car-Free
---
Time to pedestrianize New York's Broadway?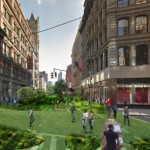 Architect Jonathan Cohn has attracted attention by proposing that  the midtown stretch, from 14th – 59th St, of New York's Broadway Street be converted into a pedestrian street-park hybrid.
The area would feature playgrounds, trails, and performance areas. Cohn & Woo argue that Broadway is no automobile thoroughfare and that the space would best be reallocated to other purposes.
As of yet, no serious movement has come out of this proposal. However, it's a sign that the successful Times Square pedestrianization has shifted the cultural conversation that such a proposal could even be uttered in a place like New York.