A couple of years ago, some friends and I decided to try an experiment we call "Radical Dining". The premise is simple: Find an interesting public space, set up chairs and tables, and enjoy a meal with your friends…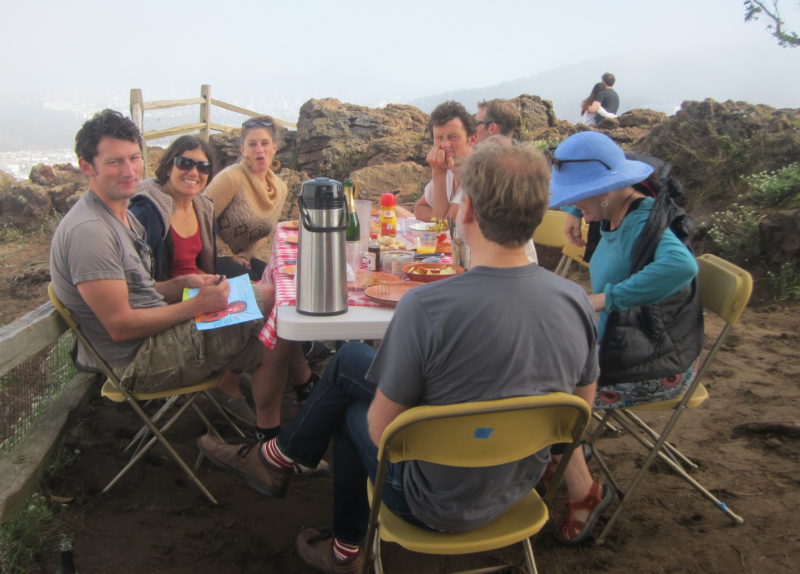 So why is a respectable member of society writing on an urban design/community blog about guerrilla dining? It's simple. By bringing people out into the public realm, where healthy and happy societies are created, we've realized you can have fun and make an impact just by enjoying an outdoors sit-down meal with your friends. Whether you want to change the world or just have unforgettable experiences, try Radical Dining. It's not much more effort than a picnic and you'll never look back.
Here's how we started…
Back in 2012, we carried the first table down the path to a small viewing area above the rugged cliffs of Santa Cruz, California. The weather was good and we felt the unique nature of the occasion. This was our first Radical Dinner. We'd invited 15 friends, asked them to bring food and drink, and invited them to wear white in the spirit of similar events in Paris (more on that later). We handled the folding chairs and tables.
Immediately, we felt the rush of doing something outside the box, picking a publicly-accessible spot where, almost certainly, nobody had ever done this before. We'd done picnics before but replacing the blankets with chairs and tables gave the event a more festive feel and made us want to linger for longer.
Our friends began to show up with food, some played guitar. Locals walked by, waving and smiling.
The Radical Dinner began. In many ways it was an ordinary meal with toasts, passing the potatoes, and animated conversation. But here we were, outside on the cliffs; picturesque views, the daily world passing by around us. And to think we'd been dining inside all our lives – we'd never thought to take it outside!
So enjoyable was the dinner that before we realized it, hours had passed and dusk was upon us.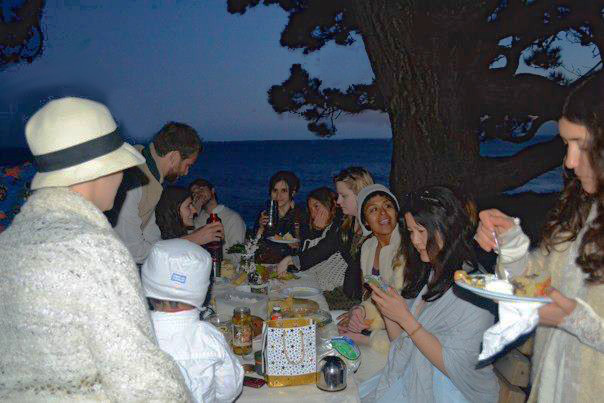 That was our first taste of bringing what is usually an indoor activity out into the public. How liberating it felt. What was usually a deserted outcrop had been transformed into a banquet venue. The world suddenly seemed vast with possibilities for places to dine.
Next time, we became more adventurous in our location choice and we dropped the formal wear. For my birthday we took chairs and tables up Grandview Hill for a fine view of western San Francisco. It took just a few minutes to set up, not much longer than for a picnic.
By the time our friends showed up San Francisco's infamous fog had rolled in. But the occasion was still great fun. Locals flashed us thumbs ups. "You guys are awesome! I'm going to do this for my birthday," said one man.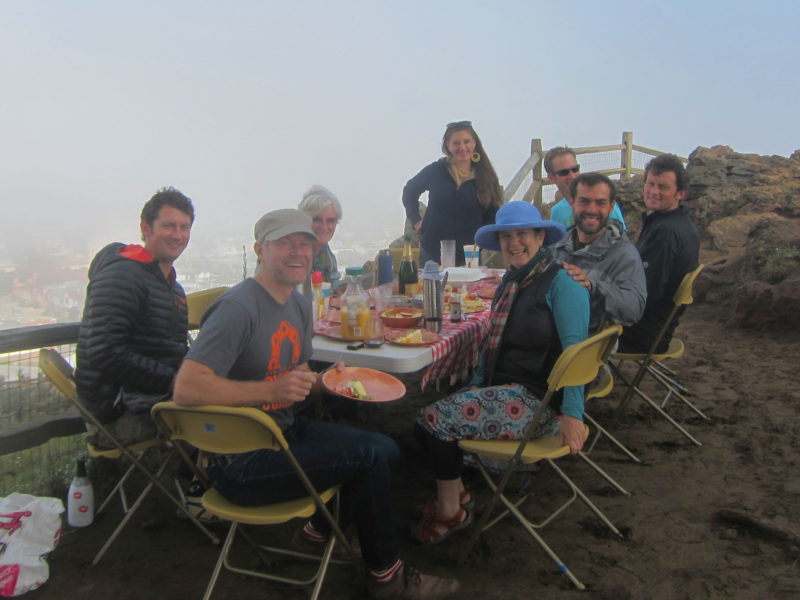 But there was one place high on the fantasy Radical Dining list: The Palace of Fine Arts, near the Golden Gate Bridge…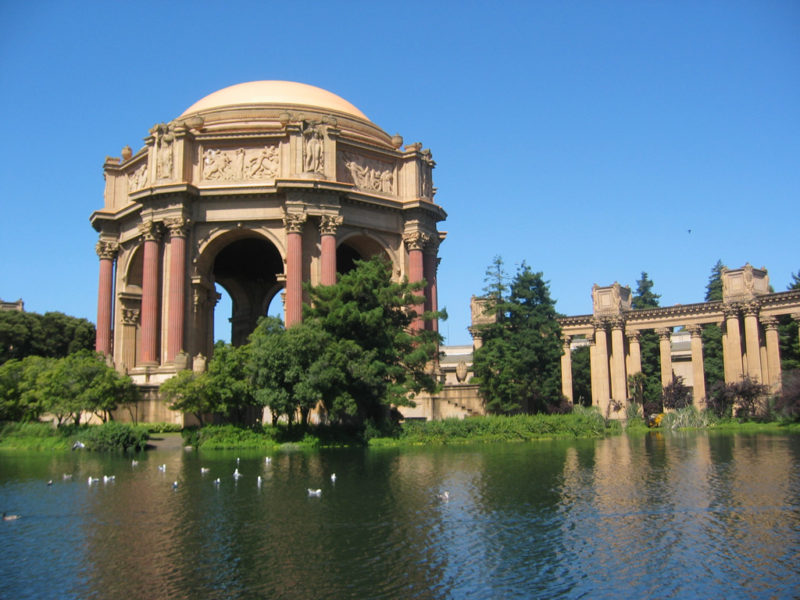 So, one sunny day we headed down to the Palace for a stunner of a lunch on the lawn next to the big dome. Tourists finally looked up from their cellphones, brides from around the world shuffled past smiling on their way for wedding photos, and we thought to ourselves "This is exactly where we want to be."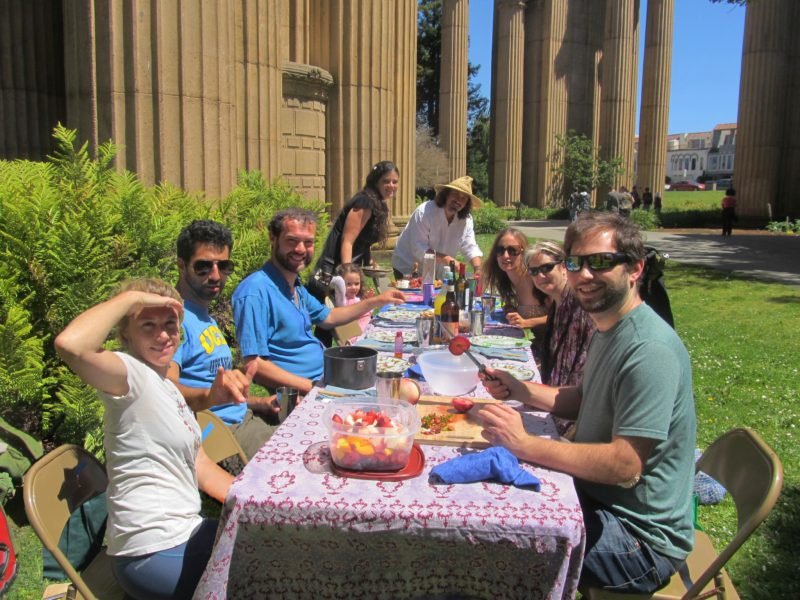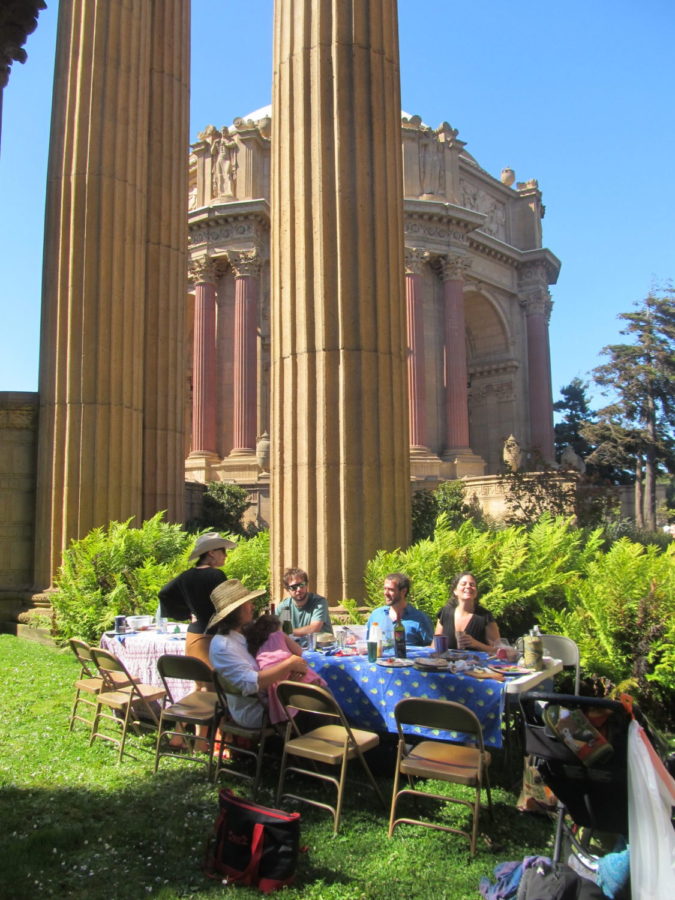 We've not been alone in these outdoor frolics. Radical Dining isn't so radical anymore, it's been spreading around the world for several decades. Indeed, we ripped off the idea from some well-known outdoor dining events, the most famous being Paris's Dîner en Blanc (White Dinner)…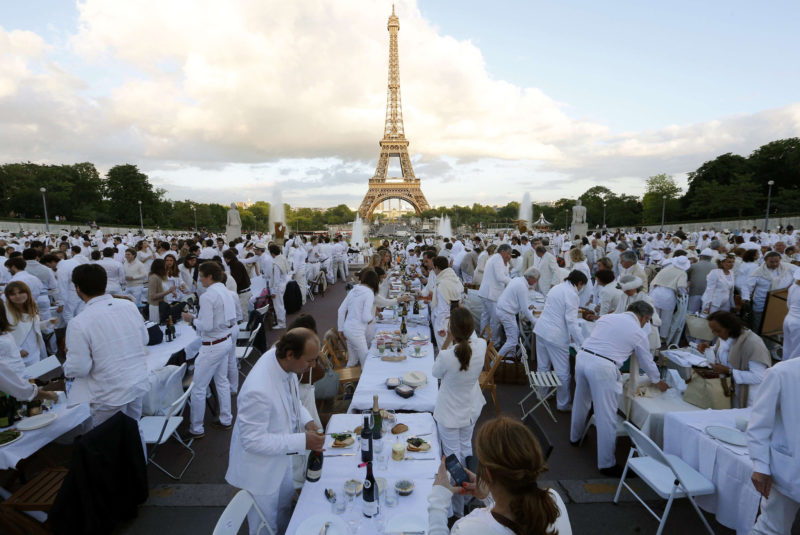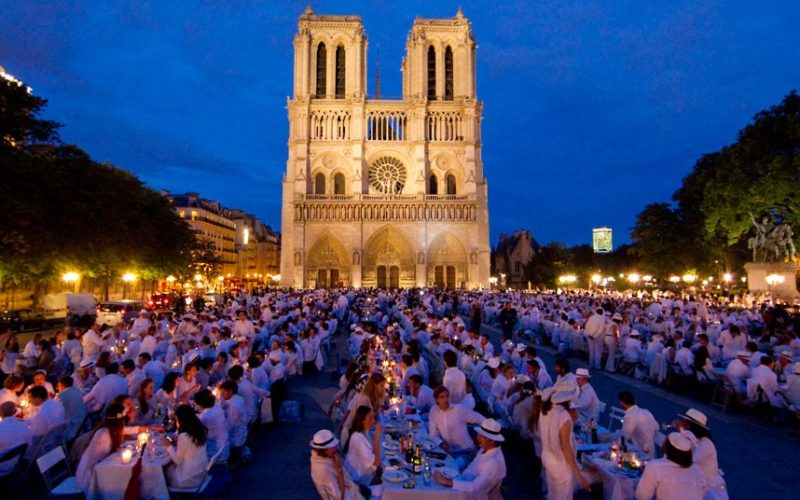 And England's The Big Lunch…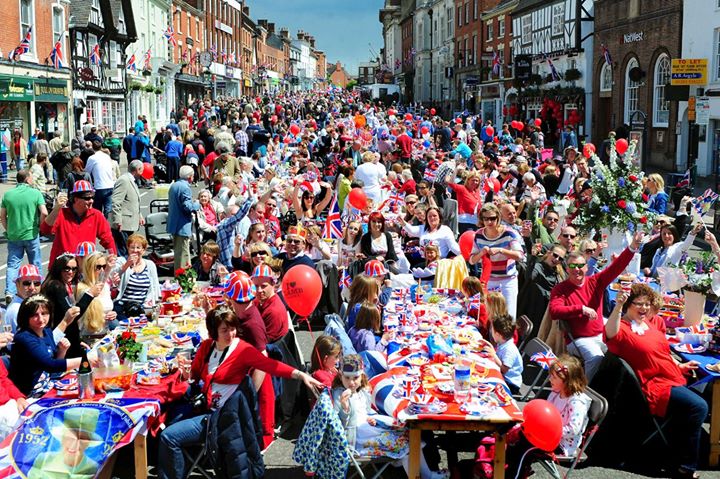 I've also organized larger community street lunches in this fashion for the Inner Sunset Sundays events…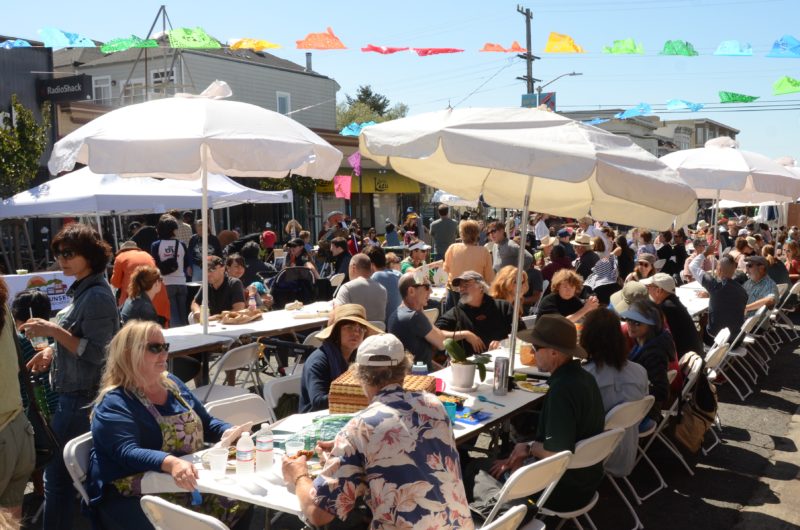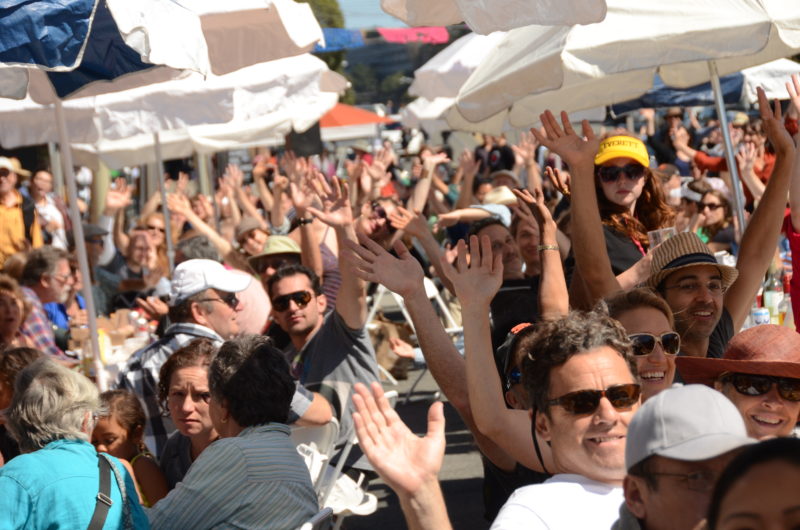 Sharing food outdoors in public space is a profound act of collective awakening. It's part of a great worldwide return to public space – exemplified by the open streets events, block parties, parklets, and pedestrianized streets of the past 20 years – after a century of automobiles pushing people to the sides of streets and indoors. This is how we say "No more isolation. Public space is for people!"
My suggestion: Forget organizing an outdoors mega-banquet. Do your own thing. Invite five or more people and make it a potluck. Pick a good spot – perhaps a park with a view or a stretch of wide shaded sidewalk on a pleasant street, somewhere accessible where you can carry chairs and tables. Don't be shy and don't be afraid to be seen by lots of people; they'll love what you're doing and you'll be showing them what public space is for: For seeing and being seen, for lingering, and for coming together. In short, for being human.
So where are you going to Radically Dine? The possibilities are endless.