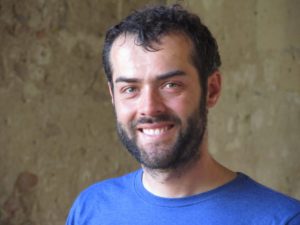 Adam Greenfield is a community organizer and public space advocate living in Austin, Texas. He lived previously in San Francisco and still contributes to projects there. His passion is centered on the goal of building community through social change and by changing the built environment.
Adam's projects include promoting block parties as a community-building tool, open streets events, creating more public space, and raising awareness of the importance of urban design on how we live. A summary of Adam's philosophies can be found on the Plaza Perspective's Principles page.
Born on the island of Guernsey in the English Channel, Adam obtained a Law BA from the University of Warwick in England and a Communications and Culture MA from San Francisco State University, California.
Contact Adam at adam@agreenfield.org.
Key Projects
Streets For All
Founder, 2012 – Present
Streets For All is a project to build community through block parties. The project supports residents to reclaim their streets as gathering places by helping people who have never before held a block party, stewarding them through the organizing process up to the big day itself. Neighbors learn how to reach out to other residents, organize inclusive and productive meetings, design events, and file for permits. Streets For All has helped make possible over 35 block parties and counting.
Organizing a block party can be a decisive moment for a street. Neighbors meet for the first time, learn to work together, and form connections that help them address all kinds of ongoing issues, from crime and childcare to resource-sharing and civic participation. Says one neighbor: "The block party changed everything on our street."
Inner Sunset Sundays


Co-Founder & Chair, 2010 – Present

Inner Sunset Sundays (ISS) is a grassroots-organized street event series founded in 2010 that creates a temporary gathering space in San Francisco's Inner Sunset neighborhood. ISS takes place up to 4 times a year and focuses on community-building through lingering, benches, food, play, performances, and more. Over 20,000 people have attended an event and even elected leaders have started showing up en masse.
ISS is intended partly to raise awareness about the need for gathering spaces in the center of neighborhoods. The events are also a model to show other communities how to organize their own regular street events with a modest resources.
Says Walter, an ISS team member, "At Inner Sunset Sundays, we come together to celebrate our common love for the neighborhood. Through these events we get to know each other on a first name basis and build strong friendships."
The Public Bench Project
Co-Founder, 2012 – Present
The Public Bench Project builds community by working with residents and businesses to install free benches in public places. By providing opportunities for people to remain in the public realm, streets become livelier and safer. Nowadays, the Project is primarily driven by co-founder Chris Duderstadt, whose talent, energy, and dedication know no bounds.
A neighbor, Sherry, tells this story about how The Public Bench Project has helped her: "I was recovering from an illness and needed to walk to the post office, which was a stretch given my sapped energy. Our home is equidistant from the Irving/9th and the 22nd/Irving post office. Which way did I head? To Irving/9th, of course, knowing that there would be benches that I could sit on if I needed to rest. Indeed, I spent a lovely 10-15 minutes on the Public Bench outside the cheese shop at 12th and Irving. I couldn't have made it without you!"
Built Curious


Founder, 2015 – Present
Built Curious is an
urban design walking experience for the general public, exploring how the built environment influences our quality of life and the experiences we have on a daily basis, such as how we move around, how many neighbors we know, and how we feel.
For many years, urban design visionaries such as Jane Jacobs, Christopher Alexander, and Jan Gehl have written about how to make vibrant, beautiful places to live. Built Curious brings this field of knowledge out into the streets for the public to engage with. For 1-2 hours, groups of up to 7 people explore in detail a small area of a city, delving into key urban design concepts. By the end participants are guaranteed to see their surroundings differently.